He's young. He's gorgeous. He's well spoken. He's a world champion. He's a proud American from Texas, where he resides in Longview. And most of you have probably never heard of him.
He's Ben Spies and to the motorcycle racing world he's a first class champion; what a NASCAR champion is in America. And yet no Wheaties box for Spies; at least not yet.
Not that Spies is a stranger to America or American titles.
Spies started racing at eight years old with the CMRA (Central Motorcycle Roadracing Association) in Texas on Yamaha YSR50cc bikes. That beginning would lead him to a string of titles and wins that include: AMA (American Motorcyclist Association) Supersport with four podiums, AMA Formula Xtreme with seven podiums and a title win; AMA Superstock with 12 podiums, 9 wins, one title win; AMA Superbike with 68 podiums, 29 wins and three title wins and then World Superbike with 178 podiums, 14 wins and the 2009 title win (all around). Now he's on to MotoGP (it's all about the different bikes), and he's already seen the podium. And he's only 26.
I caught up to Spies (thanks to his Mom Mary's wonderful scheduling) while he was in Italy. He had just taken the podium at Silverstone Raceway in the UK and his mom had made sure he had gotten some dinner before the interview.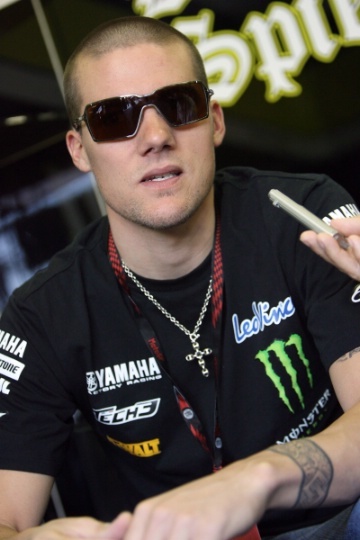 "Silverstone was a great race for us," he began, doing the interview via Skype. "It didn't start out super good, and Saturday we had a big crash and re-aggravated my ankle. Qualifying went OK, thought we'd be fifth or so. But then saw the battle for the podium, ran those guys down, and was able to get a podium. It was unexpected for me, didn't think we had the pace. But it was definitely great," he recalls.
One thing missing at that race, which is part of the MotoGP circuit (the Grand Prix of motorcycle racing where the riders ride on custom built bikes unlike Superbikes, where they ride modified stock bikes) is superstar Valentino Rossi. Rossi is to Italy what Madonna is to America. He's a rock star, to his country, and the sporting world. Again, outside of America. Rossi took a bad fall (a high side, going over the top of the bike) and was not racing at Silverstone. Did Spies miss the competition?
"Valentino is special, he's Valentino Rossi," Spies laughs with a warm Texas accent. "But in MotoGP even before I got in it the one to beat is Jorge Lorenzo. He's won a majority of the races and he's been the one to beat. So it doesn't affect what I've been doing. The sport likes to see him, he's huge for the sport and for Yamaha, but him being there or not doesn't' effect what we are trying to accomplish," Spies adds.
Again, any fan of MotoGP or anyone with sports knowledge outside of the U.S. would know each of the names, but not stateside. Spies feels it's all in the promotion.
"It needs more publicity. It takes time. Cycling came in big with Lance Armstrong in America. It's interesting, it needs to be promoted more and promoted better," he starts, having obviously pondered this before.
"It's pretty amazing, he continues. "For instance, I don't follow soccer a whole lot, but America's reaction to this year's world cup was amazing. It's all about promotion and the way it's televised. Anyone I know that's comes to a MotoGP race or motorcycle race in general always finds something interesting. In America I won three American titles before going to World Superbike and winning the World Superbike Title. This year is my first year in MotoGP, the formula one of bike racing, what NASCAR is in America. When I go home, there's a small clique in Dallas that knows who or I am, they know who the kid with the nice house on the block is. But there's not much else status about it around here. "
Of course Spies is actually fine with that. When he's off the track he can usually be found in his home in Texas, surrounded by friends or family, driving one of his favorite cars (his Porsche Cayenne SUV is his "grocery getter"). Not exactly living the rock star life. But on the MotoGP circuit, riding million dollar bikes, it's a bit different.
"The bikes are completely different. They're very much mechanical, the way you ride them. The rider input isn't as much as on a superbike. It's more Rock Star like. The bikes are million dollar bikes. The hospitality behind-the-scenes is five star foods with chefs taking your orders. It's crazy. The travel. We were in Holland last weekend, leave tomorrow for Spain. Three weeks in a row. Five weeks ago I fractured my ankle and did ligament damage heading in to a three week stretch like this with the ankle. Germany, Laguna Seca, back to Europe, back to Indianapolis…" he trails off thinking of his schedule. "It's a busy time," he concludes.
And not just for him. Spies' mother, Mary Spies, has been handling his career since the start, and that suits him just fine.
"She's done all my stuff since day one," he proudly and unequivocally stated. "She was in $70k worth of debt just to get me where I'm at. She does a lot of personal stuff with my travel. I work with more people now for my racing stuff, to take the weight off of her so she can enjoy it more. But you have to have the people around you that you trust, and click, that you relax around a lot more at the end of the day. My mom handling my career works because no one is going to bully her around, and so no one will bully around me or my career with her handling it," he laughs.
And while the American press may not be so hot to interview, this American Sports super star in the making the European press and press of the world clamor to him. He's got everything the media could want; he's handsome, he speaks plainly and like it is, and he's down to Earth, he rides like the wind, and often wins. As such, the interviews often stray in to politics, the world. Questions about the oil spill, President Obama, American politics in general often come up, and Spies is quick to stick to racing.
"I get a lot of questions with the President, the war, the gulf oil spill abroad," he reflects. "People want to know my opinion on things. In America, they don't even care. I like it, though. I like to be with my fans. Then at home I get to be invisible basically. And I don't need the attention, I'm not the loudest. So really, it's fine. But back to the question. I mean, if I'm pressed, well, it's hard to answer. I always try to look at things from all around. The spill is a disaster, I don't know enough about it, how to fix it. Couldn't comment on it. The President, the war, when they ask, I say look, everyone's in a problem, is hurting. So it's really going to be hard for any President to look good. He speaks for a lot of people, but is he the only one really deciding. There's so much we don't know. I try not to be for or against something until I truly know about it and with my schedule, I like to talk about racing! It's not that I'm uninformed, or don't care. I am, I do, but I can't do anything about all that, I can race."
And racing has been in his blood since age five. It's his passion, and his world, and he's fine with it. More than fine. If huge American face recognition and super stardom doesn't happen, it's all OK. Why, because, as people go, he's happy, and knows not to complain in these times.
"Getting up and not having to worry about a whole lot is a gift," he states. "I get paid relatively well to ride a motorcycle, which I love to do. My work is to train to be fit to race motorcycles. My passion is bicycles. I do a lot of bicycling, race on them when I can. If there was one thing I could choose to do to make a living it would be racing motorcycles. There's a lot of people, even professional athletes that make millions, and you ask them what it is they really want to do and they wouldn't say that, what they're doing isn't their biggest passion. So, I get to do exactly what I want every single day and get paid for it. Who could complain?"
And ride he does, often laying down a motorcycle to an angle that teeters on defying physics or lower, while going around an embanked corner at 200 mph. He makes it look so easy, and yet his distinctive riding style stands out. Nicknamed Elbowz by the media and fans because, well, his elbows can stick out when he rides.
"It's a nickname, everyone's got one. I don't think I ride that way. But, I guess the way I race is dramatic and attracts attention and I like that because I don't have the Rossi personality, throwing my helmet to the crowd, so I'm glad that my riding style at least attract people to me," he states.
And after 21 years of riding a motorcycle, it has not gotten old at all.
"People need to understand, riding like that, that's my office, that's what I'm used to. Going 210 mph is like going 100 in a car for you. Now when you have something go wrong at 180 mph or almost crash, that's when it gets your attention," he laughs.
"But there's nothing like the feeling of putting a helmet on,, rolling out on the grid in Spain with 150,000 people yelling. Right before the lights go out, it's crazy. I've got a resting heart rate of 40 or 45, on the grid, it's 140 or 150. It's unbelievable every time. "
Spies will be in front of thousand of screaming American fans July 23-25th as part of the Red Bull Grand Prix at the Mazda Raceway, Laguna Seca (Monterey, CAhttp://www.mazdaraceway.com). He currently rides for the Monster Yamaha Tech 3 team, with teammate (another Texan) Colin Edwards. Spies is on a black and yellow Yamaha YZR-1.
For more information on Spies go to http://www.benspies.com
For more visit www.thekarelshow.com