Jerry Brown should ride a motorcycle. Meg Whitman should ride a motorcycle. In fact, every politician from Nancy Pelosi to President Barack Obama should hop on a motorcycle as rider or passenger and take a trip just around one city, one area, one place. Not a sealed bubble of a car or motorcade, but all the sights and sounds and stops of a motorcycle. And so should you.
Ever since my car was totaled I've been a motorcyclist, never thought I'd be, never even imagined it. But here I am, a 47 year old openly gay entertainer and media figure out riding about every day on an Aprilia Mana 850, one of the smartest commuter bikes around (partiality noted here). This weekend the Motorcycle Industry Council loaned me a Suzuki Gladius to ride about. I, of course, don't like to shift, so I stayed on my Mana, but my good friend Niall decided to test it out with me.
Niall and I are an unlikely pair. He's the epitomé of the straight male in the biker world. A Harley mechanic by trade, bag full of firearms that he loves to take out and practice with, reads all the right wing blogs and there's not a conspiracy theory around that he won't entertain or argue about. Born in Hawaii he's racially tolerant, but has made his fair share of bigoted, racist or even homophobic statements based more on economics than anything else. He believes in border security, kicking Al Qaeda's ass and has been in his share of bar fights. And yup, he hangs out with a big queer, me. And we fight and fight about topics. Recently, he's become engaged and much less rough around the edges. It was our first solo ride after two years of friendship.
Living in Southern California there's never a shortage of world-class scenery, although most that live here don't notice any more (more on that later). So we geared up, even in the summer (a lot of bikers forget that asphalt still hurts in the summer weather and leave off jackets or gloves or boots). Luckily I have AlpineStars (partiality noted here) Summer Collection jacket with all the protection but not all the heat of regular moto jackets. Full face Shoei helmets, good summer gloves and my AlpineStars ankle boots that I wear on the bike or off basically every day. Yup, I got this.
So, off to the gas station, the first learning experience of the day for them (and me). In fact, the trip to the gas station would begin the lesson.
On that first leg of any bike journey is where Meg, or Jerry, or Barack or any other passenger would learn two things from the get go: first of all, protecting ourselves on the roads whether in a car or on a bike is up to us, we must be prepared; and that all that preparation may one day be for naught because our roads are crap (California's are 48th in the nation and since the nation's are crap, that's equivalent with Kabul at this point in some areas), and that because drivers want to text or eat or phone more than drive laws that prohibit such don't work because you can't legislate personal responsibility. They would see why 30,000 people a year die in accidents on our own roads (although I'm happy to say motorcycle miles are up and fatalities down) at the hands of poor technology, poor roads, unprepared drivers (we give licenses to anyone basically) and an auto industry that refuses to make it a safer experience. They would see that Americans are in more danger just getting home from work than they are from Al Qaeda and launch a full scale attack on our transportation system, at least a three trillion dollar once since that's what we've spend on Al Qaeda (or more). They would see there's plenty of jobs just waiting because we basically need to rebuild our roads from scratch.
And they would immediately call Google and say "what can we do to help you with your new Auto Automation software and how can we help roll it out within five years since tens of thousands of Americans are dying needlessly?"
Because trust me (and Niall, and every other motorcyclist out there) most of you simply can't drive, don't want to, or refuse to put down the phone, don't thoroughly look around or bolt out of parking places. Let's just say driving is a lost art form and it's literally killing us.
At the gas station there's so much to learn. Niall and I pulled up to the same pump. We never look at the price, because even if it's $.50 more per gallon we're talking four gallons here, so no big difference. He offered to pay (common among bikers) and I figured I'd get the next one. When he came back, if we had guests, they would have gotten the same earful I did.
"This station charges $2.00 to pay with a card, $2.00!" he exclaimed. "So, if I make $12 an hour, I have to work 1/5th of an hour to pay a bank fee to access my own money, to pay a company to buy their product? Where's the bank reform on all this kind of crap. Banks charge us to death just to use or get to our money these days! Everybody is trying to pick our pockets!"
He's right. Bank reform was a joke. The working middle class, if there's any left, or the working upper class poor (under $75k per year) are "fee'd" to death by the banks. And the tension is mounting. On a recent trip to San Francisco I decided to go see my brethren in the Castro (the gays) and do some banking and iPadding (is that a verb yet? If not, it is now). I walked in to Wells Fargo and a woman was trying to close her father's account. There was a $25 fee she was never told about, her father had no clue about, in this account that the bank had seen fit to open for her father (I'm a good listener and she wasn't quiet). She went on about all the fees, the fees, it's the fees that's are causing us to leave she exclaimed. I'm quite sure the banker at some point would have reached in his wallet and given her $25 just to make this go away.
Then, while walking down Market a man next to me comment about the empty shopping mall. I made a comment about the economy and he immediately went in to a tirade against his bank who had begun doing what? That's right, charging him fees of unknown origin, so he went in and gave them a piece of his mind and got them taken care of immediately.
Frustration is everywhere — from the Streets of San Francisco (mad props to the late Karl Malden for the reference, oh and my boyhood crush, Richard Hatch) to the gas station at 7th and Junipero in Long Beach. People are hurting, and often it's banks and businesses that are hurting them in the name of a fee for something that costs them nothing.
Back on the bikes (the Gladius took under four gallons, the Mana three) and off to San Pedro across the bridges, including the Vincent Thomas Bridge over the second busiest port in the world, the Port of Los Angeles. It's an important gateway to America and it's goods, and as such a possible target. I won't go in to how easy it is to sneak things in containers in or simply walk up to a giant supertanker, but, well, it's easy.
Next stop Ports O'Call Village. In my teens it was a playground for cruise ship passengers coming or going, the affluent of Palos Verdes, CA and San Pedro, CA and tourists. Waterfront shops and restaurants centered around a bustling port, huge container ships passing by over lunch.
Today it is bustling as well, Full of fish markets where you buy the fish raw and then they cook it for you. About 80% Hispanic, this is where workers, especially Hispanic workers, bring their families on weekends for family lunches. After Niall is asked by a security guard…"Hola, Senor, do you have any cervezas in your backpack? May I look?" Niall and I laugh out loud and say sure! He then sees our helmets and says, "Oh, it's ok. No problem."
We get to San Pedro Fish Market at the end of the Village and split a combo plate, It's shell on shrimp sautéed in the best spices, with Tilapia fillets, peppers, potatoes and onions all thrown on the same plate covered with four tortillas and served with a huge side of salsa. $12.
If we had guests, they'd see, as we did, the four women behind the counter, in the insufferable heat of the day and the grills. Which of them has health insurance? Probably none. Maybe one or two. How many hours must they work like this each week to make ends meet? Is this their only job? And in today's world, of course, are they legal?
We share a table with a family of five — two kids, boys, mom, dad, and grandma. Niall and I begin eating shrimp like we're Baleen whales and fish and peppers all with our fingers, drinking lemonade and laughing. A Mariachi band — a live one, complete with trumpets — begins playing in the crowd behind us. The port is alive today with the darker faces of America and it's fabulous.
We talk to the family next to us. They're from Las Vegas. They come out here often to this very place; they drive hundreds of miles to visit a place most in the area have long since forgotten or visit infrequently. Mom and Grandma are, of course, in the service industry. Dad, construction. The boys in school. I speak Spanish, because I live in California, so the conversation was easy.
They offer us food. A huge fish with a face that's been cooked.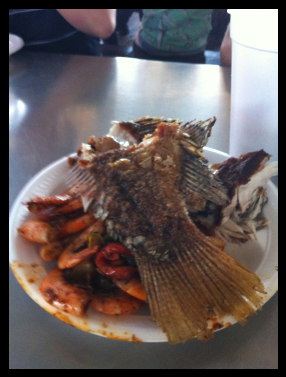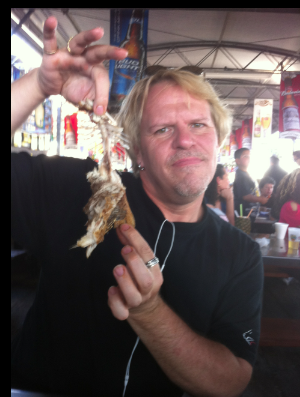 Niall recalls living in Hawaii, spear fishing, then just cooking them right there. And there we are. The big homo in biker gear with tattoos showing, the Harley Mechanic out with the a friend while his fiancée shops for bride's maids dresses in the garment district of Los Angeles, and the Hispanic family from Las Vegas. Sharing food, conversation, laughter. They buy a giant Corona, and I mean big, and let me take a photo with it. Suddenly, I'm the tourist and I just live two bridges away.
As Niall and I walked away, we both thought the same thing out loud. Legal or not, whatever, who cares. Those were great people, good people, people we are glad are in America. If they, or anyone they love, needs help getting in to this country, then dammit, help them, don't vilify them. They're not the enemy, the brown people. They're family. They're us. They're part of our community and our culture and we love them as much as anyone else because we're the same. We just want to sit and eat affordable fish with our families and laugh on a Sunday.
Take that Meg. Learn it. Back on the bike.
Now it's up the coast, through Palos Verdes Estates and by some of the most beautiful coastline in the world. In the estates we see three Meg 2010 signs. Ahh, the wealthy and their idea of what California or the country should be. They want to keep their million-dollar beach front property and most of their money, and she's all for that. They want their Brown people in their maid's quarters, not at their ports having lunch. Gotta love them.
We stop at a friend of Niall's in Manhattan Beach in a mobile home park. While Niall talks I inquire about how much one of the mobile homes that's for sale is; $200k for a double wide about 10 blocks from the beach, down from $400 at one point. It becomes obvious why we have a housing crisis. In fact, the countless for sale, for lease or for rent signs, coupled with the going out of business or moving sales along PCH spoke volumes as well. All is not well. And while there's still beauty and joy, there's something behind it, too.
Next stop is a huge Harley shop on Lincoln/PCH. Me, at a Harley shop. This should be fun. I'm not fond of them, and agree with Matt and Trey from South Park about many of their riders. I know.
Well, I did. Until the stop. Naill needed gaskets for his Buell. Buell worked for Harley, broke off, made bikes of his own. Past tense. Like many brands of the day, gone.
The guys that came in while I sat phoning (bikers wait until they stop to use their phones, novel idea) were, well, every man. They were America. They were workers, older, younger. They were what was the middle. And their conversations were the same as those at the port. Family. Friends, the economy. And yes, relaxation. Remember to get out for a minute and enjoy something, anything you love or have, And how time for that is fleeting these days.
Now it was up the coast. There's something magical about the tunnel that leads to PCH right past Santa Monica, where the 10 freeway begins (at the Pier). I've traveled that 10 from beginning to end, literally, and that's another story. But just passing the beginning of it made me feel not only connected to the rest of the country through that artery, but to the troubles of Katrina and the Gulf Spill directly. That road that starts right there leads to such disaster, such change, such wasted opportunity.
On PCH it is everything every song, poem, movie or work of art can depict. We drove through Malibu, where I had dreamed I'd live when I was younger, home of the rich playground of those that wish to be around them. For sale. For rent. Foreclosed. Yes, even Malibu. And let's not talk about how it burns almost annually. The traffic congestion locals must endure. No, on some days, it's just pretty. This was one.
A quick right on Sunset Blvd. and another right in to the Lake Sanctuary on Sunset. Here there is a Shrine with part of Ghandi's ashes in it. Yes, that Ghandi. Set in a peaceful and serene setting it's a spiritual place (there is a church there), a place of reflection. I certainly did. I would hope any guest would. Reflect on the smells so far along the way. The ocean mist in Redondo. The BBQs at the beach. The pollution of being in traffic..all of it. You see, smell, hear it all on the bike. Reflect on the conversations at the Port, the laughter, the feeling of true Middle America at the Harley store. Take it in, it's your state, your country, your world. Experience it, don't just talk about it, bustle through it or legislate about it.
Then it's off to the twists and turns of Sunset Blvd. The Mana and Gladius do well, and it becomes clear the only way to get around in an urban environment is a mix of bikes, public transport and other vehicles. Cars just don't make sense in many settings. We fly past UCLA, a college struggling to turn out America's next generation of great thinkers. I reflect (you do that a lot on a bike) about the woman I met on a plane back from San Francisco who taught gender studies. She told me of how so much of their time, at their level, at that school, is still spent just teaching kids how to do the basics, like study skills, writing skills, and well, basics. The education system is failing, but the people inside of it are trying so hard, especially the educators.
We pass the first building I did radio in with my late husband Andrew Howard and I cry for a moment. Lucky for me I wear a full face helmet. Donna Summer sings "Sunset People" on my iPod and I laugh, never imagining my life like this. We got to the Abbey in West Hollywood, a long running gay bar in L.A.'s gay Mecca, or Gecca I guess.. Yup, Niall and me and the Abbey on a Sunday. It's packed. There's a fabulous gay anthem playing, the obligatory disco diva singing her guts out. Cocktails are flowing. People are chatting. People who survived the bullying everyone hears about. People who "don't tell" or whom you would never have to ask. People who are legally married, some waiting, some just looking for a connection for the night or a lifetime. It's people, partying, having fun, fellowship, friends. Niall and I get a juice beverage (pansies, I know but motorcycles are unforgiving in that respect) and we mingle. We see Celebrity X behind the Velvet Rope (below an incredible painting of Liz Taylor that made us laugh out loud!), we see the gay boys and their fag hags, the West Hollywood queers who wear more products in their hair or faces than the women they're with, each and every one fabulous in their own respect.
I turn to Niall and say, you know, being gay is so fabulous. I love it. I love the music. I love the men. I love that women love us. I love how we get to sing and dance and do whatever we want whenever we want, why, Because we're Gay! I turn to him, and ask, is being straight just as much a blast?
"Hell f–ing ya!" he exclaims. And we both decide if being gay is a blast, if being straight is a blast, it really must be that just being yourself is a blast, no matter what the package. Here we are, an unlikely pair (and I wish with Jerry, Meg, Barack, Nancy Pelosi, someone in tow) having a great day, experiencing so much of our own area that so many never even take the time any more (including the people). It's a blast. And yes, I'm a big old homo all the while, and he's a little fabulous nonhomo and it's all great.
Being gay is a blast. Bullies are idiots. Politicians who say we shouldn't marry, or serve, or Gubernatorial Candidates who think gay is not OK (in NY) should all just stow it. Or, better yet, come for a ride with me. Get to know a few. You'll be amazed. We're the same.
Then it was sunset at the top of Los Angeles, at the newly reopened and 75 year old Griffith Park Observatory. Downtown Los Angeles to the left, the mid-Wilshire, Santa Monica and beaches to the right, Long Beach off in the distance, mountains behind us and Hollywood sign almost reachable. We drove up to the building (cars were prohibited, motorcycles OK) and parked. And looked. Niall had never been there. All these years in Los Angeles. We're surrounded by people from all over the world who have come here to see this, this view, of this city. I explain to a young girl as she is literally gob smacked by the Hollywood sign (a little starlet, I could feel it), telling her mom "I don't even care if you get me in the foreground, just get the sign…" Anyway, I explain to her how it was all about real estate, Hollywoodland, but the "land" fell off and this became an icon. Realtor went broke basically. So an icon of dreams built around a "for sale" sign of sorts. Irony is everywhere.
We look at the sprawl of L.A. and say to each other, since we're at an observatory, that if we do find life on a new planet, we should tell it to not let us on. We don't do well with planets. Just look out there.
As we move around the roof, we look at lives so different. Near the observatory, houses are millions of dollars. But just down the hill, look, you can see it there, poverty. From up top the lines between rich and poor, easy and not, the distance between the two is…nothing. Nothing at all. So why such disparity? How can less than 10,000 feet away from such poverty there be such wealth?
The sun sets and neither of us can believe all the things we've seen, we've thought, we've learned or laughed about along the way. As a gay man, I think this is what male bonding must be, Because at that moment, Niall and I were best friends at the top of the world. We agreed that taking the view, the people, the lives we had, no matter how challenging, for granted, was just not a given.
And we realized, before getting on the bikes again that America, including our little portion of it, is still such a great place with such great potential. Anyone riding with us would have seen that, too.
We hit Sunset again, wanting to go beginning to end, and rode in to downtown Los Angeles as the sky turned Orange. The Walt Disney Center, with it's fabulous architecture, across from the Catholic Taj Mahal, Our Lady of the Angels $300 million … thing…(they even have a gift shop and their own wine, no lie)…amongst the towering corporate logos could not have felt any more Metropolis or world class if it tried. We turned left on 6th Street to go across the very famous and very filmed 6th Street Bridge (S.W.A.T. with Colin Farrell landed a plane on it, so many movies have been filmed on it over the years).
On the way, we drove through skid row, San Pedro streets, Los Angeles streets. Again, just five blocks away there's lofts, and nightlife and Los Angeles Live. The Biltmore Hotel, where I went at 21 for my first Grammy party, a stone's throw. Cardboard boxes line the streets, the smell of urine overwhelming in the helmet. An hour ago I was in Bel Aire, driving by the $300k a month home where Michael Jackson died, now, I'm seeing cardboard boxes and urine smell. We drive by the hotel where Andrew(my late partner) and I stayed for a day on air on radio on skid row. I remembered the dead junkie in the room next door, the crack pipe on the heater in our hotel room. We had security. We had people. We weren't alone on these streets.
I have been. Homeless, Both with my parents and then in my 20's. I have slept in my car, and eaten food out of a McDonald's dumspter (every 10 mins they throw away any packaged food not sold, can't donate it for insurance reasons, dumb, I know. At least they used to).
I can't help wonder as Niall and I pass these people, how? Why? The numbers have increased since my last drive through here (the Dish Factory is near skid row, cheap dishes). More boxes. More urine. There's kids, kids out on the street. Kids! I want to stop. The Nikko Hotel, I can see it's emblem from here. Take them in. A basement, something! Kids! My heart aches. We turn on to the 5 Fwy south.
It's down the 710, newly paved with a sign saying "your stimulus money at work." Well, yes, we need it, but what about money for those people over there?
Niall takes the Gladius home once we zoom back to Long Beach. We bid goodbye at a stoplight and I bring Manny back (my Mana). I take off my gear and hug my dogs.
What a day. What a fabulous, wonderful, conflicted, thoughtful day, Great friend, great food, great people. A day of joy, beauty, some of the greatest beauty that tourists still spend good money to come see, in the entire world. And a day of such hardship, Middle class angst, frustration, growing fear. The best the world has to offer, and the worst, all in one day, and all in 107.1 miles.
Everyone should take a 107.1 mile journey around their world on a motorcycle. Or car or bike or bus. Take time to talk, to listen, to really see.
In that 107.1 miles you'll see the world, And yourself in it. And how it's all so very connected and the solutions are so very simple.
Meg, Jerry, Barack, Nancy, Dianne Feinstein, Barbara Boxer, Glenn Beck, Rush Limbaugh, insert name here, I've got a seat waiting on the back of my bike or we can get your trained in under a week and riding your own. Either way, get out of your bubbles. Travel that 107.1 miles and see that we're not talking an economy or race or policy. We're talking people connected by 107.1 miles of life.